THE BOOKS ON THE TOP OF MY TBR!
Us bookworms have a forever increasing TBR pile, thanks to endless new releases and fantastic recommendations from friends, blogs and videos. I *literally* have hundreds of books I want to read but here are my current top five that I want to get round to as soon as I can!
"Sixteen-year-old Starr lives in two worlds: the poor neighbourhood where she was born and raised and her posh high school in the suburbs. The uneasy balance between them is shattered when Starr is the only witness to the fatal shooting of her unarmed best friend, Khalil, by a police officer. Now what Starr says could destroy her community. It could also get her killed. Inspired by the Black Lives Matter movement, this is a powerful and gripping YA novel about one girl's struggle for justice"
Yes. Yes I know. I can feel you all sigh. "IT'S INCREDIBLE" I hear you scream. The reviews are amazing. It's influenced by such an important cause. How come I haven't got round to this yet? Honestly I don't know why. I bought it the week it was released in the UK. I know I'm going to love it so I really want to get round to is very soon and then finally I'll be able to join in with all the hype!
"Offred is a Handmaid in the Republic of Gilead. She may leave the home of the Commander and his wife once a day to walk to food markets whose signs are now pictures instead of words because women are no longer allowed to read. She must lie on her back once a month and pray that the Commander makes her pregnant, because in an age of declining births, Offred and the other Handmaids are valued only if their ovaries are viable. Offred can remember the years before, when she lived and made love with her husband, Luke; when she played with and protected her daughter; when she had a job, money of her own, and access to knowledge. But all of that is gone now…"
I've been meaning to read this classic for several years now but after the recent series on TV which I want to watch (but after reading the book), this has now become a major priority. It's such an iconic feminist read too so I'm sure it will be fantastic. I've read a couple of other works by Margaret Atwood and really enjoyed them so this seems like a great choice to read.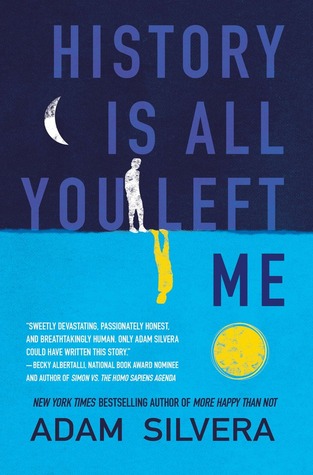 "When Griffin's first love and ex-boyfriend, Theo, dies in a drowning accident, his universe implodes. Even though Theo had moved to California for college and started seeing Jackson, Griffin never doubted Theo would come back to him when the time was right. But now, the future he's been imagining for himself has gone far off course.
To make things worse, the only person who truly understands his heartache is Jackson. But no matter how much they open up to each other, Griffin's downward spiral continues. He's losing himself in his obsessive compulsions and destructive choices, and the secrets he's been keeping are tearing him apart.
If Griffin is ever to rebuild his future, he must first confront his history, every last heartbreaking piece in the puzzle of his life."
I still can't believe I haven't read a single book by Adam Silvera! History Is All You Left Me is the one that appeals to me most so I will probably get round to reading this fairly soon. I've been reading lots of contemporary novels recently so whilst I'm in the mood, this seems like a book that I will be reading very soon!
"Vivian Carter is fed up. Fed up with her high school teachers who think the football team can do no wrong. Fed up with sexist dress codes, hallway harassment and gross comments from guys during class. But most of all, Viv Carter is fed up with always following the rules.
Viv's mum was a tough-as-nails, punk rock Riot Grrrl in the '90s, and now Viv takes a page from her mother's past and creates Moxie, a feminist zine that she distributes anonymously to her classmates. She's just blowing off steam, but other girls respond and spread the Moxie message. As Viv forges friendships with other young women across the divides of cliques and popularity rankings, she realises that what she has started is nothing short of a girl revolution.
TIME TO FIGHT LIKE A GIRL"
I hadn't heard about this book until the Zoella Book Club but I'm so glad I have now! I recently bought this and it sounds like it could be one of my favourite books ever. Just from the synopsis, it gives me What's A Girl Gotta Do? by Holly Bourne vibes (my favourite book I read last year), and seems to have similar themes and awesome characters. Definitely a must read which I will get read in the very near future!
"In Amy Poehler's highly anticipated first book, Yes Please, she offers up a big juicy stew of personal stories, funny bits on sex and love and friendship and parenthood and real life advice (some useful, some not so much), like when to be funny and when to be serious. Powered by Amy's charming and hilarious, biting yet wise voice, Yes Please is a book full of words to live by."
Even though this book was really popular several years ago, I never had the interest in reading it. However, after devouring the several seasons of Parks and Recreation in a few days, I can't wait to find out more about Amy. And another feminist book (there seems to be a reoccurring theme throughout this list, eh?!) means I'm sure I'll love it.
So that's it for my books at the top of my TBR! Have you read any of these book? Are you planning to? Got any other books you think I should add to my TBR?
Let me know in the comments!
Marie