My October TBR!
Can you believe we're in October already? Where has the year gone?! Now it's the time of  year for woolly scarves and mugs of hot chocolate, it's pretty much a guarantee that I'll be staying inside and reading most evenings. I managed to read 11 books in September, which I'm really proud of, so hopefully October can match that! Here are 5 books I'm hoping to get round to in the month of October!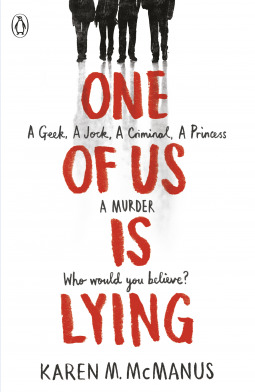 "Yale hopeful Bronwyn has never publicly broken a rule.
Sports star Cooper only knows what he's doing in the baseball diamond.
Bad body Nate is one misstep away from a life of crime.
Prom queen Addy is holding together the cracks in her perfect life.
And outsider Simon, creator of the notorious gossip app at Bayview High, won't ever talk about any of them again.
He dies 24 hours before he could post their deepest secrets online. Investigators conclude it's no accident. All of them are suspects.
Everyone has secrets, right?
What really matters is how far you'll go to protect them."
I've been meaning to read this ever since it's release earlier this year but haven't got round to it yet. It has so many amazing reviews and the blurb sounds incredible and so enticing. And to think that this is debut novel is just another bonus, and why I'm so excited to read this. I really hope it lives up to all the hype.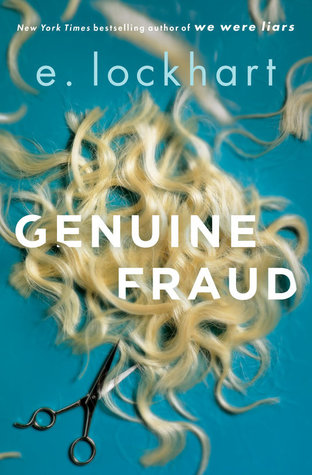 "The story of a young woman whose diabolical smarts are her ticket into a charmed life. But how many times can someone reinvent themselves? You be the judge.
Imogen is a runaway heiress, an orphan, a cook, and a cheat.
Jule is a fighter, a social chameleon, and an athlete. 
An intense friendship. A disappearance. A murder, or maybe two. 
A bad romance, or maybe three.
Blunt objects, disguises, blood, and chocolate. The American dream, superheroes, spies, and villains. 
A girl who refuses to give people what they want from her.
A girl who refuses to be the person she once was."
I managed to grab a cheap copy of this as a kindle format so I'm definitely going to read this as soon as I can. I read We Were Liars several years ago and really enjoyed that, so although I haven't read any of her other books, I really enjoy her style of writing. The cover really intrigues me and I've been seeing a lot of hype about this book, even months before it's publication date, so I'm going to take that as a good thing!
"Five months ago, Valerie Leftman's boyfriend, Nick, opened fire on their school cafeteria. Shot trying to stop him, Valerie inadvertently saved the life of a classmate, but was implicated in the shootings because of the list she helped create. A list of people and things she and Nick hated. The list he used to pick his targets.
Now, after a summer of seclusion, Val is forced to confront her guilt as she returns to school to complete her senior year. Haunted by the memory of the boyfriend she still loves and navigating rocky relationships with her family, former friends, and the girl whose life she saved, Val must come to grips with the tragedy that took place and her role in it, in order to make amends and move on with her life."
I recently saw this on Amazon (the above is a new cover design) so I was intrigued and found the premise very unusual and I wanted to see how it was executed. It was only when investigating the book a little more, that I realised this book was actually released in 2009 and was very popular at the time. This was before I was an avid reader, so despite it's popularity, I don't know much about it and I want to head into it that way too. The fact that it involves a shooting also made me want to read it this October because of it's increasing relevance.
"Before Liz Lemon, before "Weekend Update," before "Sarah Palin," Tina Fey was just a young girl with a dream: a recurring stress dream that she was being chased through a local airport by her middle-school gym teacher. She also had a dream that one day she would be a comedian on TV.
She has seen both these dreams come true.
At last, Tina Fey's story can be told. From her youthful days as a vicious nerd to her tour of duty on Saturday Night Live; from her passionately halfhearted pursuit of physical beauty to her life as a mother eating things off the floor; from her one-sided college romance to her nearly fatal honeymoon—from the beginning of this paragraph to this final sentence.
Tina Fey reveals all, and proves what we've all suspected: you're no one until someone calls you bossy.
After recently reading Yes Please by Amy Poehler, I feel this is a natural book to want to read next. I've only seen a few things that Tina has been in (not all of it is broadcast here in the UK), but I'm still equally as excited to learn more about what she's achieved. The cover makes me laugh and I feel this is going to be a great feminist read, with lots of hilarious stories!
"When her family becomes impoverished after a disastrous financial speculation, Agnes Grey determines to find work as a governess in order to contribute to their meagre income and assert her independence. But Agnes's enthusiasm is swiftly extinguished as she struggles first with the unmanageable Bloomfield children and then with the painful disdain of the haughty Murray family; the only kindness she receives comes from Mr Weston, the sober young curate. Drawing on her own experience, Anne Brontë's first novel offers a compelling personal perspective on the desperate position of unmarried, educated women for whom becoming a governess was the only respectable career open in Victorian society."
As some of you may know (or may not know), #Victober is a challenge to read as many Victorian novels as you can/want to. Admittedly, I haven't read loads of Victorian novels as I like to read classics whilst listening to audiobooks, so they tend to take longer to read for me, even if they are relatively short in length. Agnes Grey has always been a book I've wanted to read, especially as it's such an undermined book, in terms of the Bronte sisters. I will probably break this up as I read, by reading other books as well, but hopefully I can finish this by the end of October.
So there it is! Five books I'm hoping to get to in October!
What's on your October TBR? Have you read any of these book? Are you planning to?
Let me know in the comments!
Marie